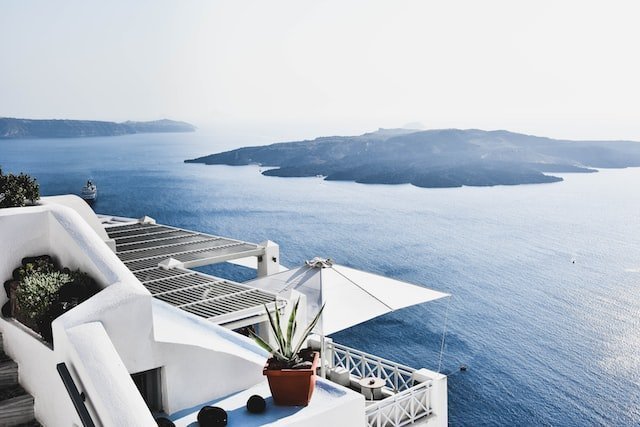 Always wanted to move to Greece and wander around the picturesque island alleys with the view of blue domes?

"Quit your job and move abroad" is the title of an article that Forbes published in January, presenting the 10 cheapest places to live for the year of 2023. According to Forbes, Greece is one of the most tempting destinations since it will likely afford you far more value for money than where you're currently living. 

The delicious Mediterranean cuisine, the quality of the healthcare system, the generosity and the genuine warmth of Greeks will allure you to move to Greece. Home to some of the globe's most important historical sites, a country with low violent crime and quality of life, offers you a warm welcome. 

The country includes 6,000 islands and islets scattered in the Greek Seas with lunar landscapes, caves, castles, and stunning beaches with sparkling blue waters. Whether you're a solo traveler, a couple or a family, the islands of Greece are known for being incredibly diverse destinations. It goes without saying that the natural beauty and the mesmerizing sunsets will be among your rewards. 

On the other hand, if you wish for a cosmopolitan city to inspire you or to walk down the street and be able to look up and see Acropolis, Athens will make you feel surrounded by the Greek culture. Moreover, the lively markets, the nightlife and the countless leisure activities give you an experience of what it is like to live in the heart of Greece among 3,1 million people.
The low cost of living is the cherry on top which will make you crave a change of scenery. As the International Living's executive editor Jennifer Stevens states in Forbes, a couple can live a nice and affordable life with a sample budget of $ 1,900 per month whereas a single with one of $ 1,600. 

In view of the above, if you wish to escape reality and embrace the Greek way of life, then you know that a mere two-week holiday is not enough. Either you're a retiree or simply a professional with an extroversive profile keen on exploring new lifestyles, Greece's pace of life is the perfect option for you.

Our qualified legal team can sort out the bureaucratic tangle while you're powering up your laptop and packing your suitcases. For any further information regarding your eligibility for the Financially Independent Person (F.I.P.) Visa as well as the Digital Nomad Visa, please do not hesitate to contact us for consultancy services customized to your needs.
Thessaloniki, 2023