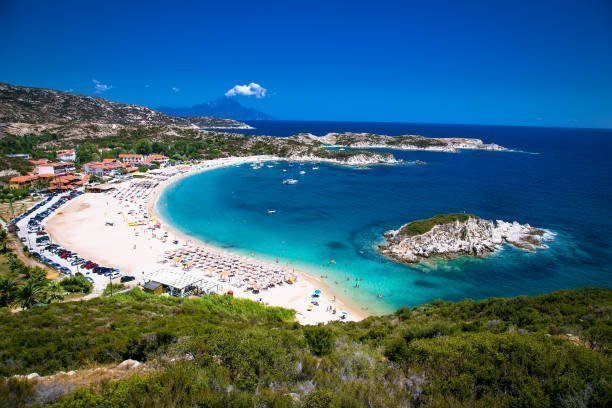 The real estate market in Chalkidiki is starting off on an inclining course, following a relatively "idle" period due to Covid-19 pandemic. The numbers for 2021 were increased in comparison to 2020, whereas the demand in various areas exceeded pro-Covid rates. The first month of 2022 has already been promising when it comes to interest expressed by potential buyers.

As the Vice President of Chalkidiki Real Estate Agents Association describes, the real estate market of Chalkidiki is undoubtedly on a rising course, regarding both the number of property acquisitions as well as the property values. Indicatively, a studio apartment in the holiday area of Nea Moudania is currently valued at approximately 60,000-70,000 euro, whereas five years ago the same property would barely reach the price of 40,000 euro.
At the same time, the famous holiday destination, Nikiti, with significant reconstruction projects, currently offers new residencies valued up to 1,800euros per square meter.
The increased demand can be justified by the interest expressed from domestic buyers, who wish to acquire a holiday residence or proceed to a purchase with an intention of further selling the property, with significant benefit. However, foreign buyers represent another substantial proportion of the market, who, either plan to acquire a property as summer residence, or intend to apply for Golden Visa residence permit, for investment purposes. Chalkidiki remains one of the favorite destinations for the Balkans, with
considerable interest expressed by Bulgarian and North Macedonian citizens, while Germans, British, Swiss and Greeks from abroad are also becoming increasingly involved. Of course, it is evident that every area of Chalkidiki, such as Nikiti, Marmaras, Vourvourou, Nea Moudania and Ormylia, attracts its own
targeted audience.
The recent "wave" of potential buyers and investors has driven the Greek government to adjust to the new era. In order to address high demand, Municipalities of Chalkidiki have proceeded to multiple construction projects, such as creating parking spaces and improving the watering system, which is now called to supply thousands of visitors and holiday residents. It is now evident that Greece, besides being a beloved summer holiday destination, is also included among the top choices for investors, domestic or foreign. The policy of "attractiveness", viz. the favorable regime for property transfers and the Golden Visa scheme, has led to the spread of the investment interest beyond the two city centers and throughout the whole country. The first signs of 2022 seem positive, creating further expectations for the development of the currently rising Real Estate sector.
If you are interested in acquiring a property in Greece, do not hesitate to contact our experienced team at info@georgakilawfirm.com